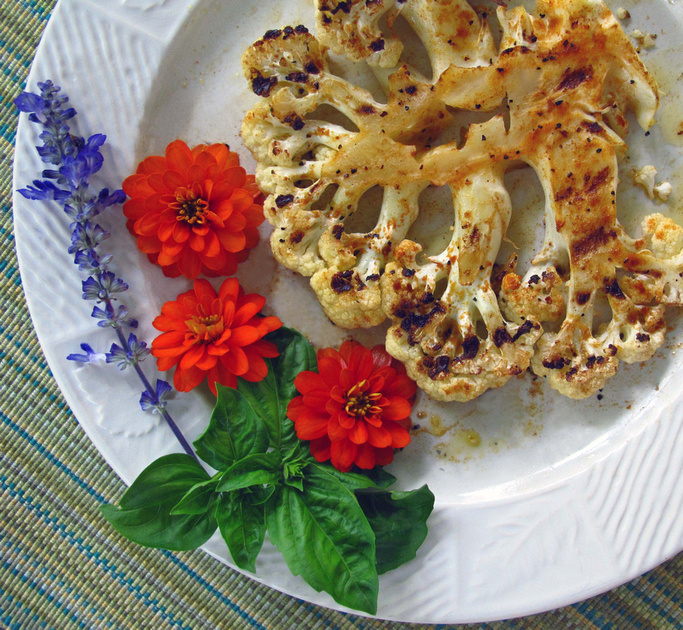 How does an unassuming, pale vegetable "dress up" for dinner?
by Laura Brandt, blogger/photographer
Cauliflower may be a forgotten vegetable, but it really shouldn't be. This crunchy white crucifer packs a nutritional punch of vitamins and antioxidants, and shows promise as a cancer-deterrent. But when it comes to flavor, boiled or steamed cauliflower is somewhat lacking. Try grilling it like a steak! Grab a cauliflower head at your local farmers market and explore cauliflower cuisine. Like me, you may be pleasantly surprised at the taste! And your family will ask for seconds.
Infused olive oil (from The Tubby Olive) is a great choice. Some flavors to try include Rosemary, Garlic, Lemon, or Blood Orange Olive Oil. High quality olive oil is imperative in any recipe! And the more flavorful, the better.
While you can deep-fry cauliflower, pickle it, or turn it into soup, grilling cauliflower is easy, and should turn out great the first time. Grill outdoors during grilling season, or oven-roast any time of year. Enjoy this delicious, flavorful, nutritious vegetable!
Follow these steps:
SMOKY ROASTED CAULIFLOWER
INGREDIENTS
Large cauliflower head, cleaned
2-3 Tbsp Blood Orange Olive Oil (I like The Tubby Olive's)
1-2 tsp Smoked Paprika
Garlic Salt, Pepper, to Taste
1. After washing and removing leaves, cut cauliflower head into approx. one-inch "steaks."
2. Brush olive oil over the tops of the cauliflower steaks, then sprinkle on smoked paprika, and salt/pepper if desired.
3. Put cauliflower on heated grill and cook for about 7-10 minutes. Flip cauliflower and cook covered for an additional 7-10 minutes or until desired texture, or "fork tender."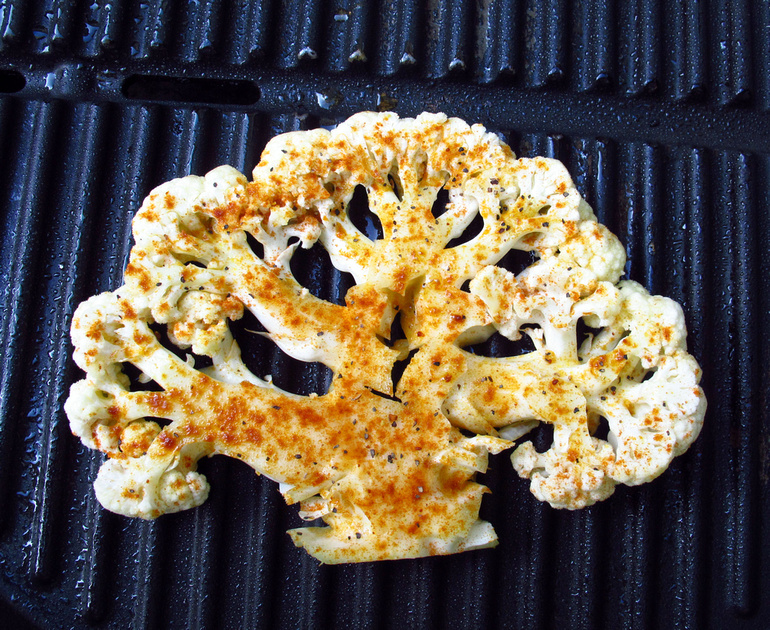 Alternately, you can roast cauliflower in the oven as follows:
1. Preheat oven to 400F.
2. Cut cauliflower into flat florets, if possible. Spread out on baking sheet or dish.
3. Drizzle evenly with olive oil, then coat with paprika, salt and pepper.
4. Roast florets for about 25 minutes or until they begin to caramelize. Mix once or twice during the process.